Welcome to The Abdominal Ultrasound Mini Series November 2015 course materials page!
Session 1: Liver, Spleen and Peritoneum
Part 2 : The Spleen and Peritoneum
Session 1 Study Notes
Session 2: Urinary Tract and Adrenals
Session 2 Study Notes
Session 3: Gastrointestinal Tract and Pancreas
Session 3 Study Notes
Participant Evaluation and End of Course Assessment Quiz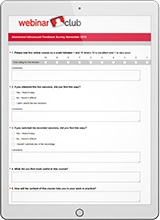 We value your feedback on this course as our aim is to provide quality, accessible learning that is directly relevant to your work in practice. Your feedback will help us to provide the format and content of CPD that you want, now and in the future.
Please take a minute to fill in the short feedback form before progressing to the End-of-Course Quiz.You must score 80% in the quiz in order to receive your CPD certificate.
Please click here to go to the Feedback Form and End-of-Course-Quiz