Paediatric Emergencies Made Simple
Good Things come in Small Packages; Approach to Neonatal and Paediatric Emergencies
Mini Series
Get all the help you need with your paediatric emergency patients in this easy to attend, fully guaranteed, Online Mini Series™ from CPD Solutions
This is the second online Mini Series I have done, and I have found both so convenient and flexible as they allow me to work around my small children.
I enjoyed it and enjoyed being able to do at my own pace. It's much easier to do the webinars when I have quiet time at home or in practice.
Everything you need for effective management of paediatric patients
Caesarian section and neonatal resuscitation
Common paediatric emergencies
Assessment of the paediatric patient
You have a whole year's access to recorded sessions and study notes for reviewing key points
Superb value for money - you learn without travelling or paying for accommodation, childcare or petcare
Watch the live meetings OR the recordings on your iPad, mobile, PC or tablet
Self-assessment quiz to 'release' your 8 hours CPD certification
What will I learn on this course?
Caesarian section and neonatal resuscitation
Stages of labour
How to recognise foetal distress and the approach to caesarian section including anaesthesia and analgesia
Neonatal resuscitation following whelping and approach to the neonate; major body system assessment
Post-partum complications; hypocalcaemia and mastitis
Assessment of the paediatric patient
The approach to the neonatal/paediatric patient including; fluid therapy, nutrition, hypothermia and hypoglycaemia
Differences in imaging, haematological and biochemical results can make investigations more challenging and we will cover these differences.
Common paediatric emergencies

Case specific feline and canine paediatric emergencies;
Neonatal isoerythrolysis
Parvovirus
Hypoglycaemia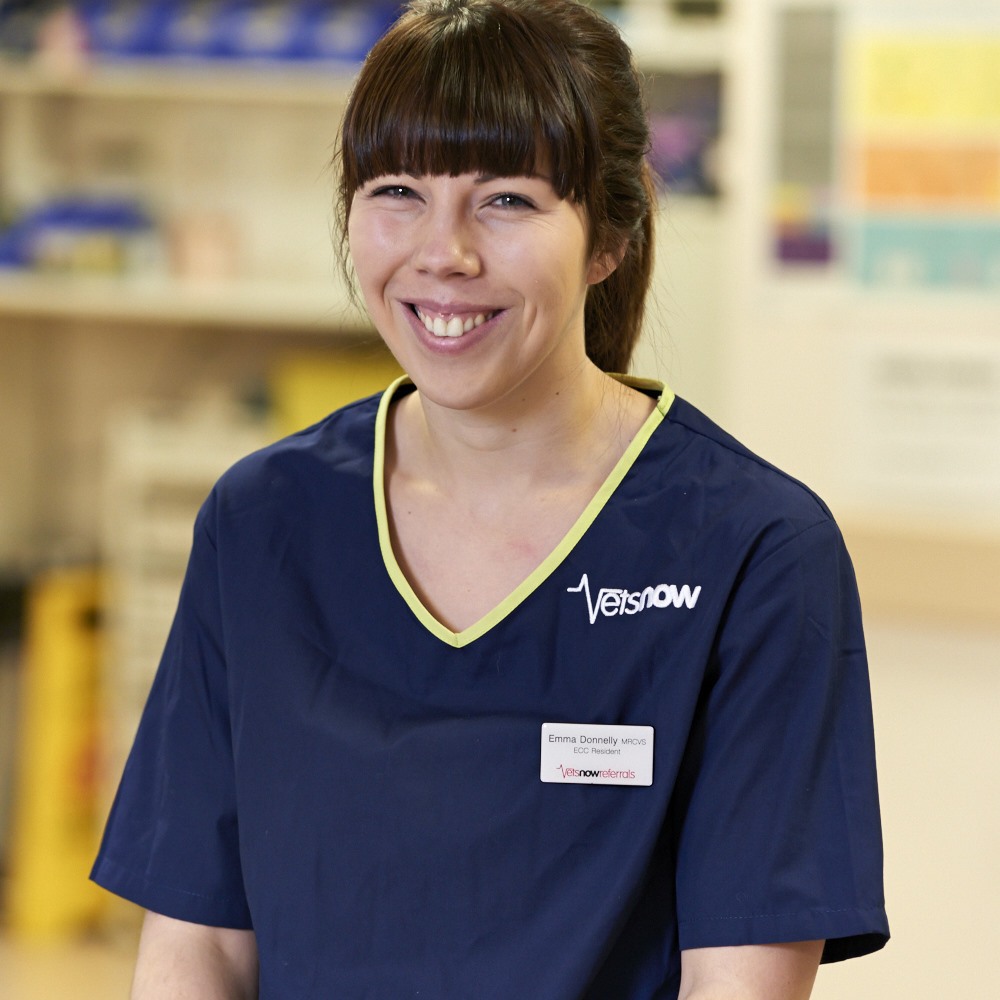 Emma Donnelly
BSc. (Hons), MRCVS, BVMS
Emma graduated from Glasgow University in 2006 and went on to complete a rotating Internship and then an Emergency and Critical Care Internship. She completed a residency in ECC with vets Now in 2018 and is currently working as an ECC Clinician at the Vets Now Emergency Hospital in Manchester. Her main interests are paediatric medicine and sepsis.
Attend the Live Sessions or watch the Recordings later - it's up to you!
The content of the Mini Series will help me very much in my work in practice. It will give me confidence to approach cases in a logical way and reach a working diagnosis and treatment plan, whilst recognising where specialist advice and referral is appropriate.
Session 1 – Friday 2nd October 2020 2pm-4pm
Session 2 – Friday 16th October 2020 2pm-4pm
Session 3 – Friday 30th October 2020 2pm-4pm
No special equipment required...just a decent broadband connection
Can't Make One Of The Live Events?
It doesn't matter……all sessions are recorded and you have access to them for a full 12 months after the course.
Take advantage of the easy Online Mini Series™ format and de-stress paediatric emergency situations in your practice
Just £227 +VAT*
* overseas customers outside the EU will not be charged VAT. Overseas customers in the EU; provide your VAT number and we will refund the VAT.
Price includes all 3 sessions, notes and quiz (8 hours CPD) PLUS unlimited access to recordings and all course materials for 12 months!
No traffic jams or accommodation hassles
No child or pet care to arrange
No rota clashes to worry about and no locum cover needed
Just great CPD and a valuable ongoing resource
100% Money Back Guarantee
Buy with absolute confidence as your purchase is protected by our 100%, no quibble money-back guarantee
Very thorough and comprehensive courses. The course notes are a great addition too.
Need Some Help? Have A Question?
Please call us on 0151 328 0444 and we will be delighted to help.
Alternatively email webinarclub@cpd-solutions.com. Thank you.