Welcome to the Anaesthesia for Nurses Mini Series course materials page!
Session 1: Prior Preparation for Anaesthesia Patients
Part 1 : Preoperative Patient Assessment
Part 2 : Endotracheal Tubes & Anaesthetic Breathing Systems
Session 1 Study Notes
Session 2: Monitoring the Anaesthetised Patient
Part 1 : Patient Monitoring
Part 2 : Respiratory Monitoring Under Anaesthesia
Session 2 Study Notes
Session 3: Commonly Used Anaesthetic Medications
Part 1 : Premedication & Sedation
Part 2 : Understanding Pain Pathways
Session 3 Study Notes
Participant Evaluation and End of Course Assessment Quiz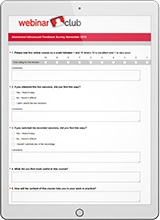 We value your feedback on this course as our aim is to provide quality, accessible learning that is directly relevant to your work in practice. Your feedback will help us to provide the format and content of CPD that you want, now and in the future.
Please take a minute to fill in the short feedback form before progressing to the End-of-Course Quiz.You must score 80% in the quiz in order to receive your CPD certificate.
Please click here to go to the Feedback Form and End-of-Course-Quiz