Presenter: Harry Carslake VetMB MA DipACVIM MRCVS
About The Webinar
In this taster webinar we get to grips with managing those colic cases which don't fall neatly into the mild or severe category. When should you recommend referral and what if referral isn't an option? There are top practical tips on getting the most out of your colic exam with minimal stress and strategies for dealing with situations such as the violently colicky horse.
What you will learn:
Practical tips on performing the colic exam and how to interpret it
How and when to perform further diagnostic tests
When to advise referral and what to do when it isn't an option
Management of medical colics on the yard

Click here to purchase the new Equine Emergencies Mini Series now and discover the secrets to treating those tricky emergency cases!



Watch The Webinar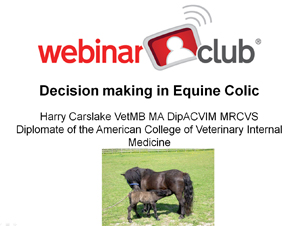 Click Here to watch the recording (please be patient whilst the presentation fully loads in your internet browser).
Watch the iPad compatible version below
Study Notes

Click Here to download the Session notes

CPD/CE Certificate
[wpwc_certificate event="217" speaker="64"]