Infection Prevention and Control for Veterinary Nurses
Mini Series
Get all the help you need with your infection prevention in this easy to attend, fully guaranteed, Online Mini Series™ from CPD Solutions
This is the second online Mini Series I have done, and I have found both so convenient and flexible as they allow me to work around my small children.
I enjoyed it and enjoyed being able to do at my own pace. It's much easier to do the webinars when I have quiet time at home or in practice.
Everything you need to effective infection prevention and control in your practice
You have a whole year's access to recorded sessions and study notes for reviewing key points
Superb value for money - you learn without travelling or paying for accommodation, childcare or petcare
Watch the live meetings OR the recordings on your iPad, mobile, PC or tablet
Self-assessment quiz to 'release' your 8 hours CPD certification
What will I learn on this course?
Basic Principles of IP&C & Hospital Biosecurity
Understand the importance of biosecurity in the practice environment
Gain confidence in vital techniques such as hand hygiene and correct use of PPE
Build up the confidence to write important protocols and educate other team members on crucial infection control techniques/practice
Infectious Patients: Barrier Nursing, Isolation & Everything In Between
Learn about the various infectious diseases, including zoonotic diseases and how to handle patients with an infectious disease.
Gain confidence in their skills of barrier nursing and isolation techniques
Learn about HAIs and how to implement prevention, management and surveillance strategies and protocol into practice
IP&C of the Surgical Patient & Surgical Practice

Identify surgical site infection risks and be able to implement protocols and interventions to help reduce the occurrence of surgical site infections
Develop the confidence you need to set up and run an effective and aseptic surgical/theatre environment and maintain good aseptic practice
Understand how to maintain and effectively clean and disinfect surgical instrumentation after use, and have knowledge of the various methods of sterilisation available.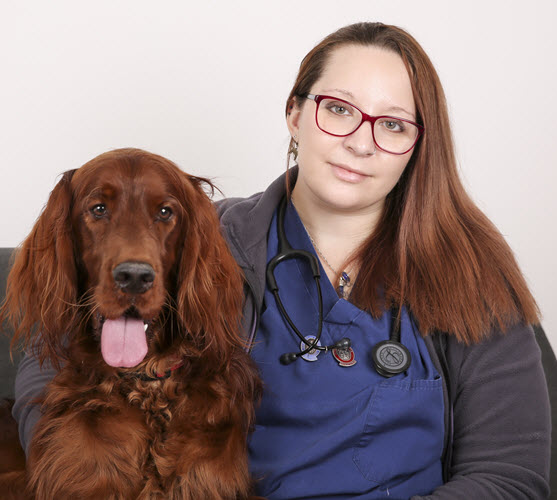 Felicity Caldwell
RVN DipAVN BSc (Hons)
Flick qualified as a RVN in 2006 and currently works for Pride Veterinary Centre, a small animal, multidisciplinary referral hospital in Derby, as an Advanced Referral Nurse in the anaesthesia, theatre and surgical department. Flick has spent most of her time in referral practice & enjoys having that drive for that "gold-standard" patient care  She undertook the RCVS Diploma in Advanced nursing, specializing in anaesthesia, surgery and theatre practice.  Flick graduated as a DipAVN in 2012. Flick topped-up her qualification to a BSc (Hons) degree in Clinical Veterinary Nursing.  Her nursing passions are within surgical nursing, anaesthesia & analgesia, theatre practice, infection control & ECC. Flick has a love for academic/professional writing & enjoys providing a variety of articles, CPD & lectures for veterinary nurses.
Outside of her professional life, she loves going on adventurous walks and going Carp fishing with her husband.  She also has a rare disability/disease called Ehlers Danlos Syndrome, and spends time raising disease awareness with her Irish Red Setter "Vyvyan", who is her Medical Detection Dog in-training.
Attend the Live Sessions or watch the Recordings later - it's up to you!
The content of the Mini Series will help me very much in my work in practice. It will give me confidence to approach cases in a logical way and reach a working diagnosis and treatment plan, whilst recognising where specialist advice and referral is appropriate.
Session 1 –Wednesday 20th May 2020 2pm-4pm
Session 2 – Wednesday 3rd June 2020 2pm-4pm
Session 3 – Wednesday 17th June 2020 2pm-4pm
No special equipment required...just a decent broadband connection
Can't Make One Of The Live Events?
It doesn't matter……all sessions are recorded and you have access to them for a full 12 months after the course.
Take advantage of the easy Online Mini Series™ format and get your practice set up for infection prevention and control.
Just £227 +VAT*
* overseas customers outside the EU will not be charged VAT. Overseas customers in the EU; provide your VAT number and we will refund the VAT.
Price includes all 3 sessions, notes and quiz (8 hours CPD) PLUS unlimited access to recordings and all course materials for 12 months!
No traffic jams or accommodation hassles
No child or pet care to arrange
No rota clashes to worry about and no locum cover needed
Just great CPD and a valuable ongoing resource
100% Money Back Guarantee
Buy with absolute confidence as your purchase is protected by our 100%, no quibble money-back guarantee
Very thorough and comprehensive courses. The course notes are a great addition too.
Need Some Help? Have A Question?
Please call us on 0151 328 0444 and we will be delighted to help.
Alternatively email webinarclub@cpd-solutions.com. Thank you.