GP Refresh- Ophthalmology
Mini Series
Refresh your ophthalmology skills in this easy to attend, fully guaranteed, Online Mini Series™ from CPD Solutions
This is the second online Mini Series I have done, and I have found both so convenient and flexible as they allow me to work around my small children.
I enjoyed it and enjoyed being able to do at my own pace. It's much easier to do the webinars when I have quiet time at home or in practice.
Guidance for a thorough diagnostic work-up of ocular diseases
Tips for practice-relevant ophthalmic equipment
Discussing up-to date treatment options.
You have a whole year's access to recorded sessions and study notes for reviewing key points
Superb value for money - you learn without travelling or paying for accommodation, childcare or petcare
Watch the recordings on your mobile, PC or tablet
Self-assessment quiz to 'release' your 8 hours CPD certification
What will I learn on this course?
Ocular surface disorders in dogs and cats
Differential diagnosis for conjunctivitis in dogs and cats
Diagnosis and treatment of non-ulcerative corneal disease (Pannus=chronic superficial keratitis, pigmentary keratitis, eosinophilic keratitis)
Diagnosis and treatment of corneal ulcerations (superficial ulcers, SCCED, deep and progressive/melting ulcers)
How to diagnose and manage feline Herpesvirus induced ulcers
How to recognize and treat corneal endothelial disease
Diagnosis and treatment of keratoconjunctivitis sicca in dogs and cats
Intraocular diseases in dogs and cats
Diagnosis of uveitis with species differences
Differential considerations for the work-up of uveitis
Treatment of uveitis
Diagnosis and treatment of glaucoma in the dog
Diagnosis and treatment of glaucoma in the cat
Intraocular neoplasia – an overview, diagnostic considerations and treatment options
Blindness in dogs and cats

Ocular disorders causing vision loss (chronic corneal disease; anterior uveitis and lipid-laden aqueous; endothelial disease; lens disorders e.g. cataract, lens luxation; vitreous disease)
Specific retinal diseases causing blindness or sudden loss of vision (SARDS, P.R.A., retinal detachment, hypertensive retinopathy)
Neuro-ophthalmic diseases causing sudden vision loss (e.g. optic neuritis, chiasmal lesions)
Diagnostic approach and differential diagnosis of sudden loss of vision
Clinical case discussions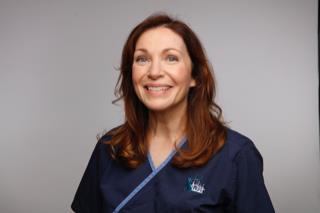 Dr. Ursula Dietrich
Dr.med.vet., Diplomate ACVO, Diplomate ECVO, MRCVS, PGCertVedEd
RCVS Recognized Specialist in Veterinary Ophthalmology
Dr. Dietrich graduated from the Ludwig-Maximilians-University in Munich, Germany in 1993, and was awarded her doctorate degree (Dr.med.vet.) in 1996 (magna cum laude). After briefly working in private practice and completing several externships in the U.K. and the U.S. Dr. Dietrich enrolled in a three year residency program in Veterinary Ophthalmology at the University of Zuerich, Switzerland in 2000 and became board certified in the American College of Veterinary Ophthalmologists in 2001 and the European College of Veterinary Ophthalmologists in 2003. Dr. Dietrich was faculty member of the Dept of Small Animal Medicine, College of Veterinary Medicine at the University of Georgia in Athens, Georgia, U.S.A. from 2000 to 2009 and was promoted Associate Professor with Tenure in 2005. After working in large Referral Centers in New York City and London from 2010-2017, Dr. Dietrich joined the Royal Veterinary College, London in 2017 and was Senior Lecturer from 2017-2020. Dr. Dietrich is currently heading the U.K.'s first Feline-only Ophthalmology consultancy service at the London Cat Clinic, London.
Dr. Dietrich has authored and co-authored multiple research papers and scientific abstracts, textbook chapters and has given numerous lectures at national and international meetings. She has served as the Chair of the Scientific Committee of the European College of Veterinary Ophthalmologists from 2007-2012, was member of the Examination Committee of the American College of Veterinary Ophthalmologists from 2002-2006 and recently joined the Genetics Committee of the American College of Veterinary Ophthalmologists in 2020. Dr. Dietrich also served as Associate Editor (Ophthalmology) of the Journal of Small Animal Practice from 2012-2019.
Watch the recordings at a time convenient to you!
The content of the Mini Series will help me very much in my work in practice. It will give me confidence to approach cases in a logical way and reach a working diagnosis and treatment plan, whilst recognising where specialist advice and referral is appropriate.
12 months access to recordings and course materials is included. Please note that these are webinar recordings and not live events. Full details on how to access the Mini Series will be emailed to you.
Take advantage of the easy Online Mini Series™ format and increase your confidence when dealing with ophthalmic diseases
Just £347 +VAT*
* overseas customers outside the EU will not be charged VAT. Overseas customers in the EU; provide your VAT number and we will refund the VAT.
Price includes all 3 sessions, notes and quiz (8 hours CPD) PLUS unlimited access to recordings and all course materials for 12 months!
No traffic jams or accommodation hassles
No child or pet care to arrange
No rota clashes to worry about and no locum cover needed
Just great CPD and a valuable ongoing resource
100% Money Back Guarantee
Buy with absolute confidence as your purchase is protected by our 100%, no quibble money-back guarantee
Very thorough and comprehensive courses. The course notes are a great addition too.
Need Some Help? Have A Question?
Please call us on 0151 328 0444 and we will be delighted to help.
Alternatively email webinarclub@cpd-solutions.com. Thank you.