Emerging Small Animal Infectious Diseases
Mini Series
Make sure you're current with emerging small animal diseases with this easy to attend, fully guaranteed, Online Mini Series™ from CPD Solutions
This is the second online Mini Series I have done, and I have found both so convenient and flexible as they allow me to work around my small children.
I enjoyed it and enjoyed being able to do at my own pace. It's much easier to do the webinars when I have quiet time at home or in practice.
Emerging and re-emerging diseases- what are they?
Novel disease presentations and infectious causes
Emerging diseases in the UK that should be included on your differential list - Leishmania, Babesia and Ehrlichia.
"Exotic diseases", such as heartworm, fungal diseases and Spirocerca lupi - could they become diseases of the future in the UK?
Introduction to rabies and Echinococcus multilocularis – what are they and what's all the fuss about?
You have a whole year's access to recorded sessions and study notes for reviewing key points
Superb value for money - you learn without travelling or paying for accommodation, childcare or petcare
Watch the recordings on your iPad, mobile, PC or tablet
Self-assessment quiz to 'release' your 8 hours CPD certification
What will I learn on this course?
Re-emerging Infectious Diseases in the UK
Defining "emerging" and "re-emerging" diseases – how common are they?
Novel disease presentations – are we underestimating the important of infectious disease? Using a case example of a challenging case of liver disease we will explore whether infectious agents might be playing a more important role than we think?
Discussion of other topical infectious diseases in the UK which are increasingly diagnosed, including where they come from, how to recognise and diagnose them, recommended treatment options and best strategies for prevention.
Pet Travel and Emerging diseases: "Expecting the unexpected"
Discussion of the PETS scheme and the risks associated with increasing pet travel.
Introduction to rabies and Echinococcus multilocularis – what are they and what's all the fuss about?
An overview of some of the emerging diseases starting to appear in the UK that should be included on the differential list - Leishmania, Babesia and Ehrlichia.
Diseases of the future: "The calm before the storm"?

A discussion of some of the currently "exotic diseases", such as heartworm, fungal diseases and Spirocerca lupi and whether they could become diseases of the future in the UK.
Heartworm – how does it cause disease and how to diagnose and treat it.
An overview of other unusual infectious diseases to be aware of, including Spirocerca lupi and fungal diseases, using case examples and highlighting important aspects of diagnosis and treatment.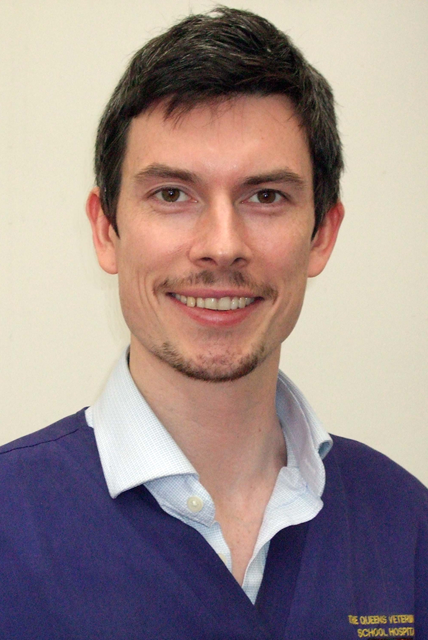 Andre Kortum
BVSc MANZCVS(SAM) DipECVIM-CA MRCVS

EBVS® European Veterinary Specialist in Small Animal Internal Medicine
Andre graduated from the University of Bristol in 2011 and spent 12 months working in small animal practice before returning to Bristol to complete a rotating internship in small animal medicine and surgery. He subsequently returned to first opinion practice, taking up a position in a busy small animal hospital in north Bristol in 2013. In 2015, Andre passed small animal medicine examinations for membership of the Australian and New Zealand College of Veterinary Scientists and subsequently moved to the University of Cambridge to complete a residency in small animal medicine between 2015 and 2018.  Since this time, he has remained at the veterinary school as a clinical veterinarian within the internal medicine department.  He was awarded the European Diploma in Small Animal Medicine in 2019 and is a European Veterinary Specialist in Internal Medicine.
Watch the recordings at a time convenient to you!
The content of the Mini Series will help me very much in my work in practice. It will give me confidence to approach cases in a logical way and reach a working diagnosis and treatment plan, whilst recognising where specialist advice and referral is appropriate.
Session 1- Wednesday 24th July 2019 2pm-4pm
Session 2- Wednesday 7th August 2019 2pm-4pm
Session 3- Thursday 29th August 2019 2pm-4pm
Take advantage of the easy Online Mini Series™ format and make sure you're right up to date with emerging small animal diseases in the UK
Just £347 +VAT*
* overseas customers outside the EU will not be charged VAT. Overseas customers in the EU; provide your VAT number and we will refund the VAT.
Price includes all 3 sessions, notes and quiz (8 hours CPD) PLUS unlimited access to recordings and all course materials for 12 months!
No traffic jams or accommodation hassles
No child or pet care to arrange
No rota clashes to worry about and no locum cover needed
Just great CPD and a valuable ongoing resource
100% Money Back Guarantee
Buy with absolute confidence as your purchase is protected by our 100%, no quibble money-back guarantee
Very thorough and comprehensive courses. The course notes are a great addition too.
Need Some Help? Have A Question?
Please call us on 0151 328 0444 and we will be delighted to help.
Alternatively email webinarclub@cpd-solutions.com. Thank you.