Presenter: Lindsey Dodd BSc(Hons) VPAC RVN
University of Liverpool
About the Webinar
Trauma patients following a road traffic accident are commonly seen in general practice. The initial stabilisation of these patients is often difficult and can be associated with high morbidity and mortality rates. In this webinar Lindsey shows you how to optimise your approach and nursing care of your canine and feline patients post-RTA.
Lindsey looks into what your initial patient assessment should be; how to prioritise and triage each body system to significantly reduce patient morbidity; analgesia and pain assessment for RTA patients; how to recognise the early stages of shock and how to choose the appropriate fluid therapy and route of administration for your patient; how to successfully nurse a trauma patient; the ongoing patient monitoring required to improve patient care and outcome.
Watch the Webinar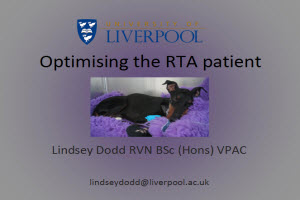 Click Here to Watch the Recording (please be patient whilst the presentation fully loads in your internet browser).
CPD/CE Certificate