Presenter: Dan Holden BVetMed DVA DipECVAA CertSAM MRCVS
The County Veterinary Clinic
About The Webinar

Nurses are invariably delegated the responsibility of using and managing all equipment required for anaesthesia and in many practices will be the only staff to do so! It is therefore essential that nurses have an in-depth working knowledge of all types of available equipment. A survey of recent nursing examinations suggested that knowledge of how anaesthetic circuits work was still very poor.
This guide starts at the gas cylinder and ends at the endotracheal tube, covering piped and bottled gas supply, the anaesthetic machine and its components, setup and testing, vaporisers, anaesthetic breathing systems, endotracheal tubes and other airway devices. Use, abuse, complications, potential hazards and complications are all explained in detail. Dan provides clear explanations of the use of different breathing systems, including correct, efficient and economic use of circle systems, calculation of fresh gas flow rates and potential problems. Scavenging of waste anaesthetic gases are also discussed.
Watch The Webinar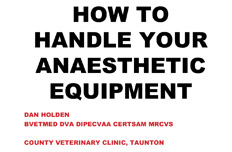 Click Here to watch the recording (please be patient whilst the presentation fully loads in your internet browser).
CPD/CE Certificate