Presenter: Andrea Harvey BVSc DSAM(Feline) DipECVIM-CA MRCVS
RCVS Recognised Specialist in Feline Medicine
About The Webinar
Feline diabetes mellitus can be a challenging disorder to manage. There are many differences to the disease in dogs, and a lot of individual variation between cases. It is also a disorder where the owner is an integral part of successful management and therefore optimising owner compliance is crucial. These are all areas that are discussed within this webinar, together with further detail on the risk factors of diabetes, and their practical implications, plus the goals of treatment.
This webinar brings you right up to date with managing feline diabetes, providing practical tips that can immediately be applied to cases being managed in your clinics.
Watch The Webinar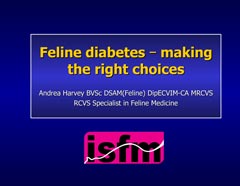 Click Here to watch the recording
This is a large file and may take 20 to 30 seconds to fully load in your internet browser.
CPD/CE Certificate