Presenter: Kit Sturgess MA VetMB PhD CertVR DSAM CertVC MRCVS
RCVS Recognised Specialist in Small Animal Medicine
About The Webinar

The aim of the webinar is to improve confidence in dealing with canine lower urinary tract emergencies through a logical, problem-solving approach.
Dogs with disease of the bladder, urethra and prostate are common presentations in general veterinary practice. More rarely they can present as emergencies. Such cases require accurate diagnosis and urgent intervention as for many the short term prognosis can be guarded but the long term prognosis is good.
This webinar will concentrate on rapid diagnosis and identification of the level of the lower urinary tract involved together with emergency management of the cause and any metabolic consequences.
Watch The Webinar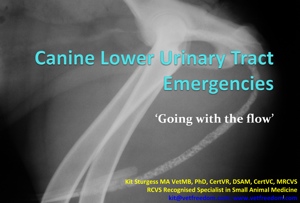 Click Here to watch the recording (please be patient whilst the presentation fully loads in your internet browser).
CPD/CE Certificate