10 Recorded Presentations (with
lots

of case videos) + Study Notes + 3 Quizzes
15 hours CPD
Neurology Boot Camp Part 1:
Spines
Spinal Patients Step by Step
Painful Spinal Conditions
Non-Painful Spinal Conditions
Neurology Boot Camp Part 2:
Collapse and Seizures
Intermittent collapse – The Neurologists View
Seizures in Dogs – How to get them under control
What to do when seizures get out of control
Seizures in cats
Neurology Boot Camp Part 3:
Brains, Tremors and Twitches
The 'Streetwise' Neuro Exam for Brain Diseases
Vestibular Disease
The Wonderful world of tremors and twitches
Our Simple Boot Camp

'4 Steps To Success'

Formula!

YES, You can get started  RIGHT NOW!  You could be up and running in just a few minutes. All you have to do is make your choice from the options below and follow the links to our shop. Complete your purchase online and get immediate access to ALL COURSE MATERIALS !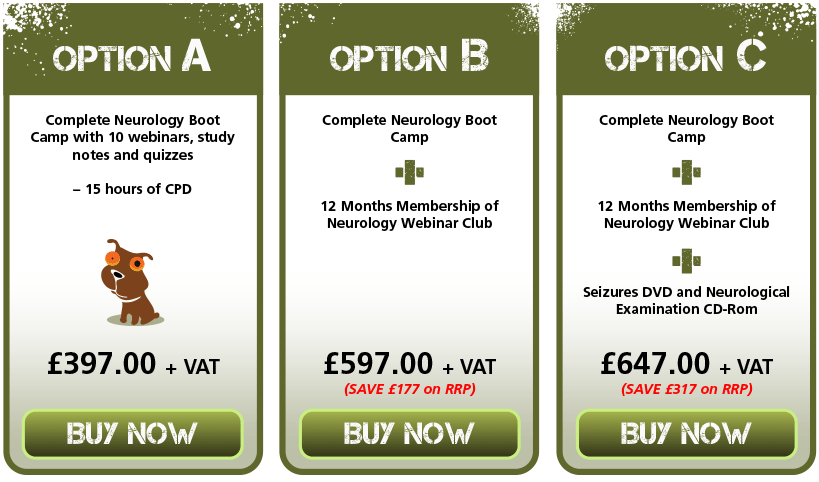 Meet Your Expert Presenters
Prof Simon Platt qualified from the University of Edinburgh in 1992 at which time he undertook a one year internship in small animal medicine and surgery at the University of Guelph in Canada. After spending two years in small animal practice in the UK, Simon began a three year residency in neurology and neurosurgery at the University of Florida. In 1998, he was appointed assistant professor of Neurology / Neurosurgery at the University of Georgia. In 2000, he became head of the neurology unit at the Animal Health Trust in Newmarket where he stayed until 2007 at which time he moved back to UGA as associate professor of neurology/neurosurgery. Simon is a Diplomate of the American College of Veterinary Internal Medicine in Neurology and of the European College of Veterinary Neurology (ECVN) as well as being a RCVS recognized specialist in Veterinary Neurology. Simon is currently the ACVIM Neurology Specialty President. He is also co-editor of the BSAVA manual of Canine and Feline Neurology and the forthcoming Manual of Small Animal Neurological Emergencies.
Dr Laurent Garosi is a Diplomate of the European College of Veterinary Neurology (ECVN) and RCVS/European Specialist in Veterinary Neurology. He is currently company director and Head of the Neurology/Neurosurgery service at Davies Veterinary Specialists, UK. His main clinical and research interests are cerebrovascular diseases, neuro-imaging and feline neurology. Laurent has published widely in the field of neurology and is a regular speaker on the national and international continuing education circuit. He is currently President of The European College of Veterinary Neurology, past chief examiner of the ECVN examination committee and co-editor with Simon Platt of a textbook on Small Animal Neurological Emergencies.
Everyone purchasing this programme will have access to all the recordings, notes and quizzes for one year
"webinars were fantastic, especially the first one which was very practical and demystified neurology for me."
"I have just managed to complete the webinar and have to say it was first class – the logical way to 'move' from presentation of the animal to treatment was very useful and the explanation of why certain signs are seen with peripheral and certain signs are seen with central vestibular disease was excellent."
"Really useful, practical stuff I can use straight away, thank you."
"What a fantastic webinar from Laurent Garosi"
Choose From 3 Great Options and save up to £317 +VAT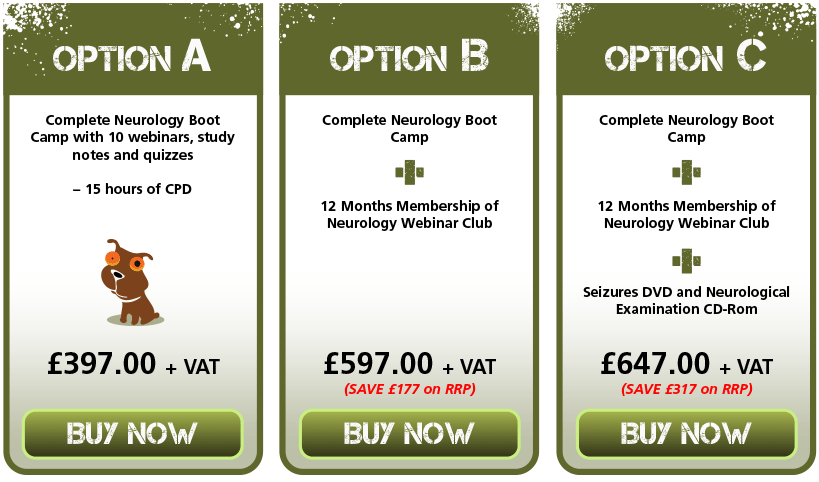 100% Money Back Guarantee
Relax! Your purchase is protected by the CPD Solutions no quibble money back guarantee.